Posted by
Cat Baker
on
Tuesday Apr 19, 2011
Under
ACTIVITIES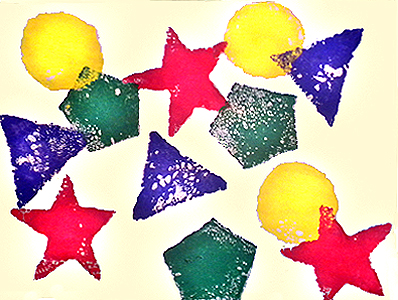 My son was extremely excited with this activity…It must be the idea of me allowing him to be a bit messy :). Nevertheless, this project was simple, easy and most importantly…FUN!!!
Usually, I try to convert our daily routine and activities into learning tools. Exploring and creating was on the top of my list, but reviewing shapes and colors was a close second. Luckily, it all worked out perfectly.
SUPPLIES:
Construction Paper

Paint
Styrofoam Plate or Shallow Container
Sponges
After purchasing a 4 pack of sponges, I cut one shape for each…For the paint, I use a separate plate per color. The next step??? Dip the sponge in the paint, making sure to saturate the tips of the shape, place on the page and press firmly to make the unique print.
After drying, the project was placed on the refrigerator along with the "Black Cat" activity and now, as he walks past, my son still yells "CAAATTT" and then quickly screams "SHAAAPES"…He's so proud!!!