Posted by
Cat Baker
on
Saturday Jul 9, 2011
Under
FASHION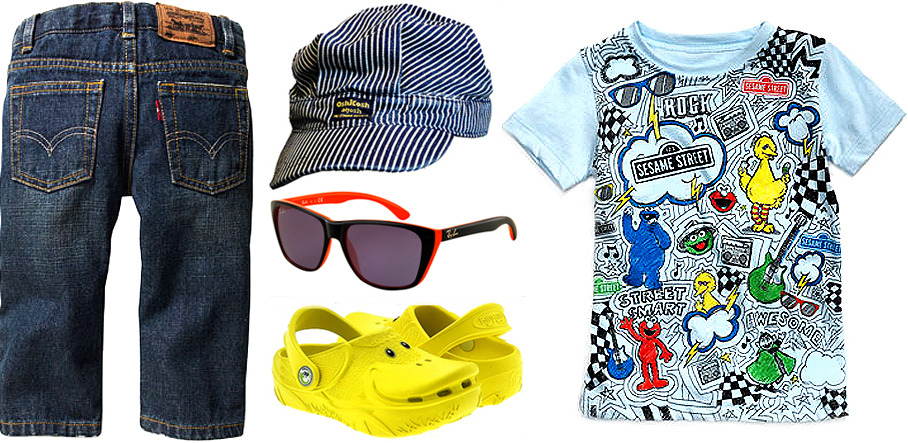 Hey…Oprah's not the only one that has a favorite things' list!!! I've noticed that my son is a bit particular about a certain items in his wardrobe…These are just a few of his fave's:
LEVI'S – Honestly…This may be one of MY favorites…Presently, Xander is between the 24 months & 2T size chart, so since his 24 month jeans are adjustable in the waist, but shorter in the leg, I just cut off the hem to create mid – calf shorts…They are SUPER cute and he still gets his wear out of them.
OSHKOSH B'GOSH – This conductors hat is the perfect little cap…With a touch of pattern, I consider it simple with a twist :)…It pairs well with almost anything and when we're walking out of the door, he yells, "HAT PLEASE!!!".
RAY – BAN – When Xander was 4 months old, I would be walking down the street with him either in the Baby Bjorn carrier or the stroller and people always asked "where did you get his sunglasses". At that time it was just basic shades, but now we've stepped it up a notch. Sunglasses are a must for him too…As soon as I put on my shades, he asks for his and yes, he keeps them on.
POLLIWALKS – He has a few pairs of POLLIWALKS, but the yellow ducks are his main choice when running out of the door. I get the "Where'd you get those CROCS??? I've never seen those", statement all the time…No, these are POLLIWALKS…Made from a similar material as the Croc brand, but every style has a different theme or animal. Too CUTE!!!
MIGHTY FINE – Who doesn't LOVE the classics…Of course I'm speaking of Sesame Street (Big Bird/ Elmo/ Grover/ Cookie Monster/Oscar, etc.) Well, the designers over at Mighty Fine have created a Sesame Street collection with all your favorite characters coupled with perfect "POPS" of color to spruce up any wardrobe.