Posted by
Cat Baker
on
Thursday Aug 11, 2011
Under
FASHION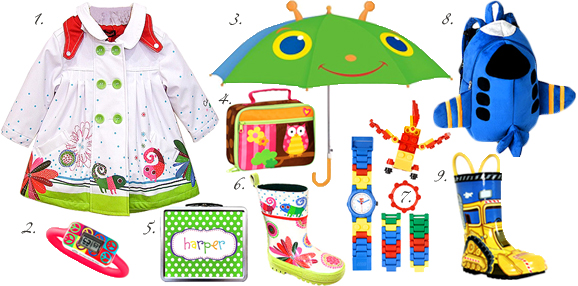 Only 3 – 1/2 weeks before kids are back in the full swing of things for the school year…All the parents I know are ecstatic!!! Of course, they love their children, but let's face it…Parenting is a job like no other…PERIOD. Especially between the ages of 0 – 4…Two words, PURE EXHAUSTION.
My son will be attending pre – school for the first time and one of my friends jokingly asked, "what will you do with all the time on your hands?" My answer??? "Complete a thought in one sitting…"

I'm sure it will take some getting use to, but believe me, I'll adapt. It's like riding a bike right?!?
Although he'll be wearing a uniform everyday, in honor of my son's first independent adventure, I've been searching for some new outerwear for the occasion…During my hunt for the hottest rain gear and accessories, I also found some of the most darling pieces for all the little princesses in your life:
1/6. CATMINI – "Spirit Ethnique" Raincoat (1) & Rainboots (6) – Too cute as a set to separate, ADORABLE.
2. POPOCHOS – "Peace" Sign Kid's Sport Watch – Hey they have cellphones in kindergarten, why not a watch???
3. MELISSA & DOUG –  "Happy Giddy" Umbrella – Unisex, colorful and "Happy", this will brighten anyone's day.
4. STEPHEN JOSEPH –  "Owl" Lunchbox – Instead of the humdrum brown paper bag, snag this eco friendly
5. NAME CREST – Lunchbox – If metal takes you down memory lane, then you'll LOVE this personalized lunchbox.
7. LEGO – "Creator" Watch – For the LEGO fanatic in your life, that likes to disassemble and make something new.
8. POPATU – Airplane Backpack – How cute!!! Equipped with trolley wheels for easy carrying after a hard school day.
9. WESTERN CHIEF – "Kid At Work" Rain Boot – The moniker says it all, "Kid At Work"…School is their "job"…Right???