FASHION
Last modified on 2011-10-09 19:28:08 GMT. 0 comments. Top.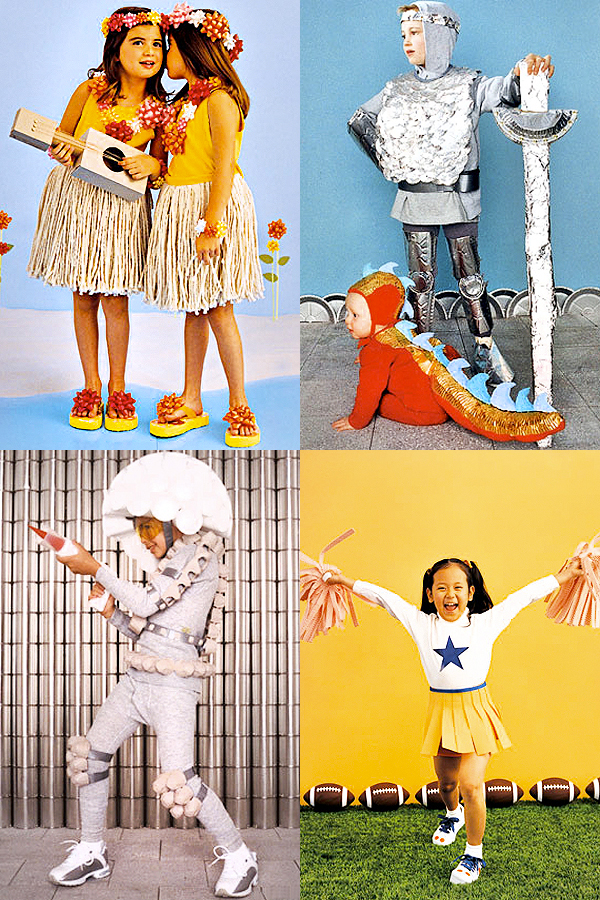 It's that time of year again…HALLOWEEN!!! Last year, when Xander was 1 – 1/2, we didn't even discuss the "holiday", but today, out of the blue, my husband asked what my ideas were for Xander's costume…Truthfully, it hadn't even crossed my mind. Now, as if I need another task added to my list, I have to mull over this little project. Ahhhh!!! Wonderful.
Nevertheless, I began researching cute but cool looking ensembles. The manufactured costumes are overloaded with choices, superheroes/ firefighters/ adorable cartoon characters/ policeman, etc., I'm absolutely stumped. Then I stumbled upon some DIY costumes that are unique, economical and cute. PERFECT!!!
Leave it to Martha Stewart and her team to create some of the coolest costumes with basic, around the house items. From plastic bags and sponges to rubber bands and egg cartons, It may take some time and energy to create, but it looks well worth it!!!
I'm still not sure what he'll be wearing, but when I decide on Xander's ensemble, I'll post the winning costume.
Last modified on 2011-07-15 03:21:33 GMT. 0 comments. Top.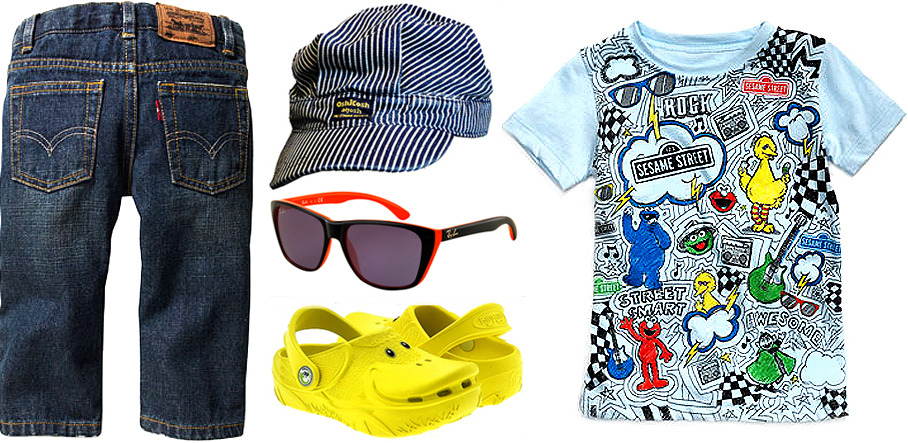 Hey…Oprah's not the only one that has a favorite things' list!!! I've noticed that my son is a bit particular about a certain items in his wardrobe…These are just a few of his fave's:
LEVI'S – Honestly…This may be one of MY favorites…Presently, Xander is between the 24 months & 2T size chart, so since his 24 month jeans are adjustable in the waist, but shorter in the leg, I just cut off the hem to create mid – calf shorts…They are SUPER cute and he still gets his wear out of them.
OSHKOSH B'GOSH – This conductors hat is the perfect little cap…With a touch of pattern, I consider it simple with a twist :)…It pairs well with almost anything and when we're walking out of the door, he yells, "HAT PLEASE!!!".
RAY – BAN – When Xander was 4 months old, I would be walking down the street with him either in the Baby Bjorn carrier or the stroller and people always asked "where did you get his sunglasses". At that time it was just basic shades, but now we've stepped it up a notch. Sunglasses are a must for him too…As soon as I put on my shades, he asks for his and yes, he keeps them on.
POLLIWALKS – He has a few pairs of POLLIWALKS, but the yellow ducks are his main choice when running out of the door. I get the "Where'd you get those CROCS??? I've never seen those", statement all the time…No, these are POLLIWALKS…Made from a similar material as the Croc brand, but every style has a different theme or animal. Too CUTE!!!
MIGHTY FINE – Who doesn't LOVE the classics…Of course I'm speaking of Sesame Street (Big Bird/ Elmo/ Grover/ Cookie Monster/Oscar, etc.) Well, the designers over at Mighty Fine have created a Sesame Street collection with all your favorite characters coupled with perfect "POPS" of color to spruce up any wardrobe.
Last modified on 2011-07-15 03:18:56 GMT. 0 comments. Top.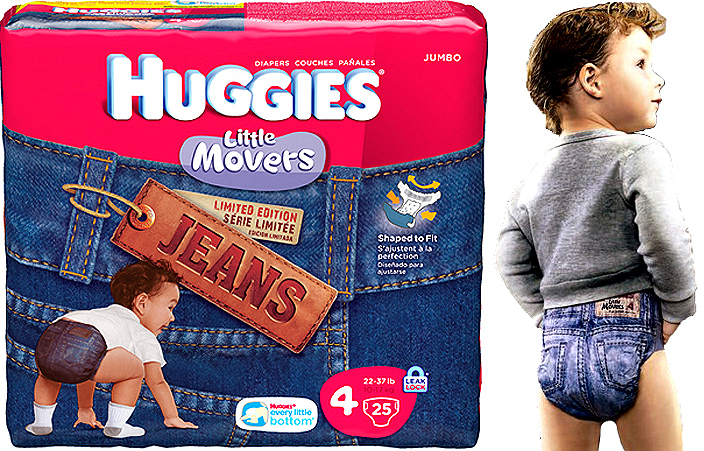 For your fashionable tot, this diaper is just what he or she needs in the summer…Jean shorts with a twist!!!
HUGGIES Jeans Diapers are back! For a limited time this year, the cutest little diapers are cute for a big cause. For a limited time, for every pack purchased HUGGIES will help diaper a baby in need.
Shaped to fit the most happenin' babies on the go, HUGGIES Jeans Diapers are a classic style…"P & P" for a purpose…And if you really want to complete the look, there are also HUGGIES Jean packaged wipes to accompany the look.
Last modified on 2011-04-28 18:25:55 GMT. 0 comments. Top.
The 2011 Spring/ Summer Stella McCartney collection is chock full of staple pieces for your child's warm weather break…
The line includes looks for boys/ girls and toddlers. Amid organic fabrics sprinkled with pops of color and details spanning from textiles to design, you're sure to find a FAB look that will be an extension of your their mother's eye on style.
Girl's – "ZIGGY" Star Denim Pant Skirt
Boy's – Joplin Organic Tee
Girl's – "Rosie "Striped Dress Toddler – Poppet Baby Dungarees
Last modified on 2011-11-16 03:53:12 GMT. 0 comments. Top.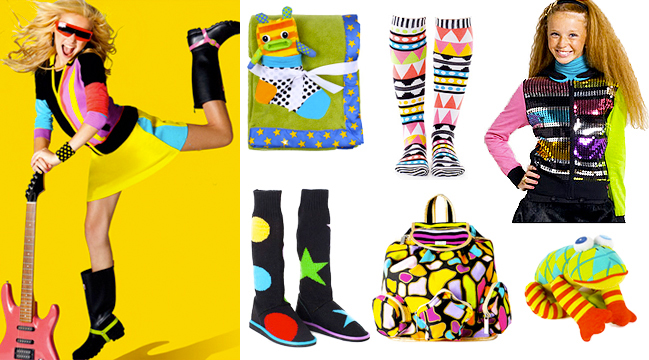 "LITTLE MISS MATCHED"…The name says it all!!!
I stumbled upon this collection while researching product for an editorial gig and was pleasantly surprised at how wonderful the collection was…Be warned…it's not straight laced and tied in a bow, but if you like to put a bit of splash in your daughter's wardrobe, this is the place.
What's the number on the eclecticism scale??? I'll put it this way, it's like Nikki Knits with 10 shots of espresso or Oilily with a twist of restraint…Yes, full of energy, vibrant color and an array of pattern.
The premise??? The socks come in sets of three (3), in which, all fall into the same category, whether pattern or color, but they are all different, (i.e., mismatched). Cute right???
Except for unisex blankets and toddler bedding the site is strictly for the "Little Miss"…From newborns to toddlers and teens, the brand covers the gamut beginning at the most adorable onesies or every length of sock created, to full outfits, handbags and accessories.
Most, importantly, for the mom's of the world who want to get a bit "ZANY"…There are adult sizes in socks, flip flops and jammies to fill that void…LOVE!!!
Last modified on 2011-04-13 22:41:56 GMT. 0 comments. Top.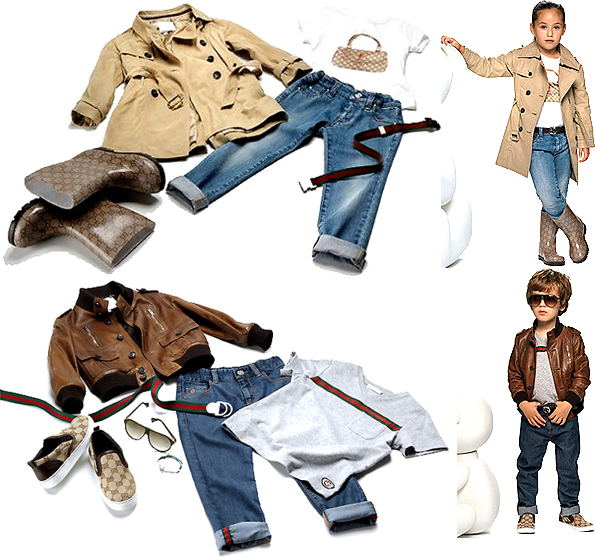 It was bound to happen, after all, we've been admiring the cute accessories and were patiently waiting…Well, it's finally arrived,  the GUCCI children's collection!!!
With the inclusion of bomber jackets, trench coats, frilly frocks, toddler tees, jazzy jeans, shoes and accessories, your toddler will win the best dressed on the school playground…Don't fret…They wouldn't DARE play!!!

The best part??? Proceeds from the collection benefit UNICEF's Schools for Africa, which aid in education for children in the territories of Malawi and Mozambique.
A premiere idea from Gucci's creative director Frida Giannini and actress Jennifer Lopez, FABULOSO!!!.