HOW – TO'S
Last modified on 2011-04-17 19:54:26 GMT. 0 comments. Top.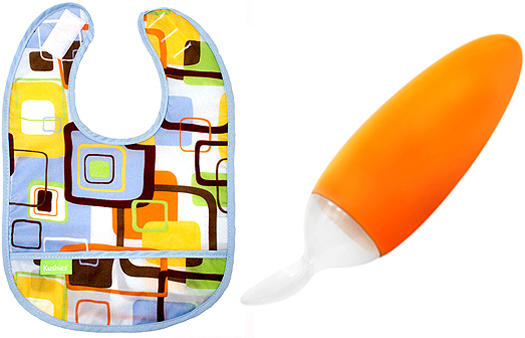 Oh the joy of feeding solid foods to the growing child!!! If you're a neat freak and loathe all things messy, this chore will drive you NUTS!!!
Personally, I'm not a neat freak, but I don't like gooey messes either…While I was still breastfeeding I decided to search for products that would make the transition easier when the time came and luckily, I found a couple of items that were ideal for feeding.
First find…BIBS…I noticed that all of the bibs I received at my baby showers did not have a plastic backing. Apparently, manufacturers had stopped the practice and this drove me crazy because my son's clothes would be soaking wet!!! It took a while, but I finally found a bib that was made  of a taffeta fabric (similar to plastic), was a snap to clean and with it's Mod graphics, trés chic.
Second find…FOOD DISPENSER…Heaven sent!!! This baby food feeder is sooooo easy to handle…Just fill it up, squeeze and the it doles out the perfect spoonful for baby. Traveling??? This will be your best friend…It makes feeding your child easier while riding in a car, train or airplane.
Believe me…Both are MUST HAVES.
BOON – Baby Food Dispenser
KUSHIES – Taffeta Bib